Prysmian Group recently participated in the Data Centre World Asia as a Gold Sponsor held at Marina Bay Sands, Singapore; showcasing our UCFUTURE Data Centre cabling solutions as part of the DRAKA UC portfolio.
Key products on display was the improved Cat 6a solutions comprising of our high density designs, Cat 8.2 channel link solution, and the revolutionary WideCap OM5 Fiber high density cables and solution.
Data Centre World, the world's largest, most influential gathering of data centre expertise brings together the stakeholders of the industry. Visitors were eagerly visiting our booth for our products know-how, future business opportunities and ranges from datacenter specialists, system installers, owners and consultants alike.
Our Product Specialists were flown in for the Day 1 keynote presentation titled: Next-Generation Multimode Optical Fibers. Adrian Amezcua, Product Line Manager for Multimode Optical Fiber and Tayfun Eren, Product Manager for Fibre Optic Cables spoke about how next-generation multimode fibers can be optimized to support wavelength division multiplexing operation and mode division multiplexing to allow migration to higher bit rates and achieve higher capacity.
Our presence in this event reinforces our position as a dedicated player in the Data Centre industry, providing high technology structured cabling solutions into data centres.
"Prysmian Group is a reputed and trusted manufacturer in this industry and it is interesting to know that they have established structured cabling solutions for datacenters set up. As a principal contractor, we are keen to explore potential opportunities with Prysmian Group for future data centers projects." – Mr Zahid Khan – Regional Projects Director, APAC, CBRE DCS
"In the past short years, we have seen how fast Prysmian Group has developed from a cable manufacturer to a full Structured Cabling Solutions player with good successes in the data centre sector, and is now a very well-recognized solution brand in this region. Hence, moving forward, we are eager to participate more closely with this MMS business unit on the opportunities ahead." – Mr Benny Lum – Executive Director, LanTroVision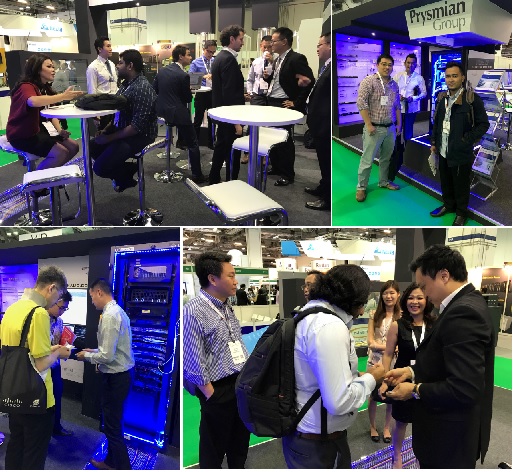 Source:Marketing MMS Asia