Shielded Public Address General Alarm, Data Cable, Fire Resistance
Construction
Conductor
Grade A Copper specially protected by fire barrier tape to ensure circuit
Construction
integrity in fire situations
Core Insulation
Twisted pair for better signal transmission.
Overall Screen
Aluminium Foil
Outer Sheath
High temperature resistance PE
LSZH in accordance to IEC 61034, IEC 60754-1 & 2.
Main Characteristics
Nominal overall diameter
mm
8.0 ±0.5
Nominal weight (completed cable)
Kg/km
66
Min bending radius
mm
60
Max pulling tension
kgf
21
Max conductor resistance @ 20°C
Ω/km
12.1
Min insulation resistance @ 20°C
MΩ/km
2000
Dielectric withstand test
kV/min
1/1
Technical Data
Size
–
As in Technical Datasheet
Specification reference
–
IEC 60332-1, IEC 60332-3A, IEC 60331, SS299 / BS
6387 CWZ
Conductor material
mm
Plain annealed copper wire to IEC
Max operating temperature
°C
90
No of Wire / Wire Diameter
mm
As in Technical Datasheet
Conductor shape
–
Circular stranded
Insulation
–
Cross-linked PE, XLPE
Insulation thickness
mm
As in Technical Datasheet
Core Colour
mm
Black & White OR Black & Red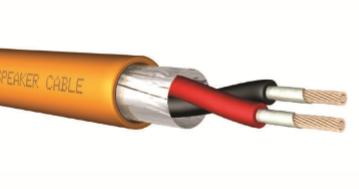 Application
Most widely used fire resistance speaker & Audio/Motor control cables, which is highly flexible due to the unique tubing design. Draka MAX-FOH Flexible speaker cables meets the stringent BS 6387 CWZ performance standards and can be used in all critical Public Address General Alarm Systems.
Fire Rating
Specification References: IEC60331, SS-299/BS6387 CWZ, EN 50200 (Class PH120) & EN 50200 Annex E
Ordering Information
P/N
Product Description
P.U
PAGAS1P15
MAXFOH™FlexiTube, 1Pr x 1.5mm2, PAGA Fire Res, Overall Screened, BS 6387, 60331, LSZH, Orange
500m/drum
PAGAS1P25
MAXFOH™FlexiTube, 1Pr x 2.5mm2, PAGA Fire Res, Overall Screened, BS 6387, 60331, LSZH, Orange
500m/drum
PAGAS1P40
MAXFOH™FlexiTube, 1Pr x 4mm2, PAGA Fire Res, Overall Screened, BS 6387, 60331, LSZH, Orange
500m/drum