Prysmian Group is pleased to announce that our Draka UC Structured Cabling System has been awarded the Jabatan Karja Raya (JKR) certification from the Malaysian Public Works Department.
This important certification endorses our relevant products portfolio to be qualified for use in the construction and maintenance of public Infrastructure in Malaya and Labuan.
Draka UC is a renowned range of products portfolio ie Category cables, fiber optical cables, accessories that completes a structured cabling solution, and provides 25 years of system warranty.
This JKR certification can be accessed via JKR website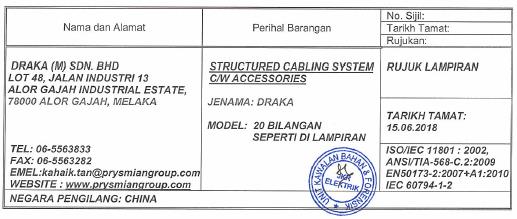 Source: Marketing MMS Asia