UC C400 PW TR U BK 24 1U V1
19" 1U 24P UTP Punchdown Panel, RJ45, Cat.6,180°
Specification
Item
Description
Panel
Al-Mg alloy, T= 2.5mm, Anodized
Front Cover
ABS+PC, UL94V0
RJ45 Housing
PBT + 15% GF 94V0
Contacts and IDC
Phosphor bronze
Contact Surface Finish
50u" gold plated over contact area
IDC Surface Finish
Tin plated
IDC Housing
ABS+PC, UL94V0
PCB
FR4 94V0
Rear Cable Management
Al-Mg alloy, T= 1.5mm, Anodized
Performance
Item
Description
Wiring
TIA 568 A/B
IDC Type
110
Insertion Force
<=30N
Plug Insertion Life
800 times insertion (RJ45, RJ11/RJ12)
Wire Size Capability
22 ~ 26 AWG solid wire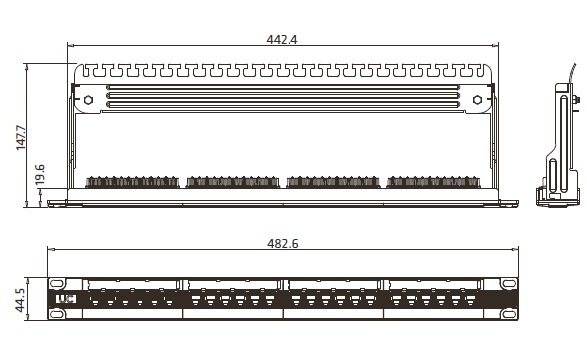 Category 6 hardware compliant performance.
"Write on" descripton label protected by clear plastic holder for clear port marking and identification.
Supplied with rear cable management to ensure proper cable bending radius.
Al-Mg alloy made panel and cable management reduces 50% of the weight.
Foldable rear cable management ideal for minimizing packaging size.
Optional color-coded dust cover available for port protection.
Component level tested.
Ordering Information
SAP IC
UCÂ P/N
UC Material Code
Product Description
P.U
YPWBP00342
PWU9747
UC C400 PW TR U BK 24 1U V1
19" 1U 24P UTP Punchdown Panel, RJ45, Cat.6,180°
1pc/bag