The Need for Speed
The launch of a Cat 8.2 copper cable system is set to transform data centre infrastructures by providing a cost effective alternative to fibre optic solutions for both 25GBase-T and 40GBase-T installations as Lee Stokes, UC Connect Product Manager at Draka.
The digital universe is growing fast. Experts predict it will grow by 40% a year for the next decade as the number of people, businesses, and devices that are connected to the internet continues to increase. The growth in social media, the use of smartphones, the evolution in industrial sensors, the proliferation of CCTV and the growth of video on demand and cloud computing are all contributing to this data explosion.
As a result of this rapid growth in data, data centres and their cable infrastructures are coming under increasing pressure to maintain sufficient capacity to cope with increasing volumes of data without a degradation of service.
In response, cables and systems specialist Draka has launched the world's first third party approved Cat 8.2 copper cabling system as part of the company's Universal Cabling (UC) Connect System. This latest product will allow Draka to offer customers the choice of both 40Gbps copper and 40Gbps fibre optic cabling solutions under the UC Connect brand.
The Cat 8.2 copper cable system is targeted primarily at data centre applications, where it will provide data centre developers and operators a cost-effective alternative to fibre optic systems by giving them the opportunity to take advantage of the reduced cost of copper compatible switches. The new system will also be particularly useful for applications where cable installers are more familiar working with copper cabling for both end-of-row and top of rack architecture.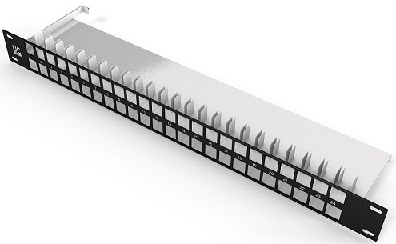 In drawing up the cabling standards for both 25GBase-T and 40GBase-T, the standards bodies recognised that the majority of applications will be in data centres, where the preferred way of connecting servers to switches is over twisted pair cable. And, since 88% of all switch-to-server links are typically less than 30m, all three of the standards bodies (the TIA, ISO and IEEE) have deemed a maximum link-length of 30m allowable, a length far shorter than the link-lengths for other cable types.
The shorter link length is necessary for 25GBase-T and 40GBase-T copper cables because above 30m their performance drops to an unacceptable level as the result of attenuation. In fact, the standards define the 30m maximum length as comprising three sections of cable: a 26m length plus a 2m long patch cable at each end.
While the maximum cable reach is broadly similar in all the 25GBase-T and 40GBase-T standards there are, however, significant differences between standards regarding backwards compatibility of Cat 8 systems. North American standards body the TIA, for example, has broken with convention with a definition for Cat 8 that does not require the system to be backwards compatible with Cat7A or Cat7 systems while ensuring that it is backwards compatible with Cat 6A, Cat 6 systems and those with a lower specification.
The ISO standard for Cat 8.1 is similar to the TIA in that it too does not require installations to be compatible with Cat 7A or Cat 7 installations, while requiring them to be compatible with Cat 6A or less. By contrast, the ISO standard for Cat 8.2 cable installations does have a requirement that the installation is backwards compatible with Cat 7A, Cat 7, Cat 6A and all lesser products. Draka's new system is ISO Cat 8.2 compliant, which means it is fully compatible with all system categories. It also has third party approval.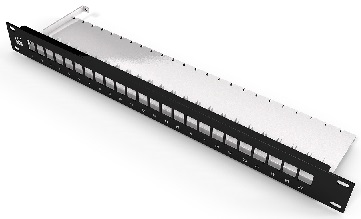 Draka's Cat 8.2 cable is available in both installation and patch cable versions. The installation cable has an outside diameter of 8.5mm and an installed bending radius of 68mm, while the more flexible patch cable is thinner with an outside diameter of 6.0 and a shorter installed bending radius of 48mm.
Both cable options incorporate four twisted cable pairs, screened using aluminium-laminated plastic foil; the overall cable assembly is then encased in a copper-braided tinned screen surrounded by a low smoke halogen-free sheath. Their robust construction ensures the cables have a data transmission performance of up to 2GHz, which is four times the bandwidth of Cat 6A cables and with significantly higher alien crosstalk requirements.
In addition to the launch of a Cat 8.2 cable, Draka has also launched a third party approved 40GBase-T connector. Most copper data cabling installations use RJ45 connectors. There are, however, currently no third party approved RJ45 connectors capable of handling 40GBase-T data volumes. So, to allow installers and developers to take advantage of its new Cat 8.2 system, Draka has developed a 4-chamber connector with a shielded quadrant design (similar to a Tera Connector).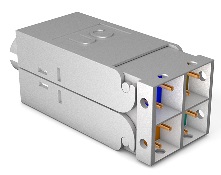 Draka's new 4-chamber connector has third party approval from testing laboratory GHMT. It has been tested up to 4GHz of bandwidth. The benefit of this is that when it is installed the 4-chamber connector will enable each twisted pair to comfortably deliver 2GHz of bandwidth. The connector also has better than 88dB of screening attenuation (the same class as coaxial connectors), which is significantly better than the 50dB maximum of most RJ45 connectors.
In theory, the Cat 8.2 system and connector should allow data centre's to take advantage of 25GBase-T and 40GBase-T systems immediately. In practice, however, the launch is so far ahead of the field that there are currently no switches and servers available to run 40GBase-T. Nor are servers likely to be available to run 40GBase-T until suitable RJ45 connectors have been developed, which could take another two years.
To give data centre developers and installers the opportunity to futureproof their data centres with the installation of a Cat 8.2 system now, Draka has also launched a hybrid patch lead fitted with a 4-chamber connector at one end and an RJ45 connector at the other. The lead will enable a patch to be made between the 4-chamber patch panel and the existing RJ45 server connection.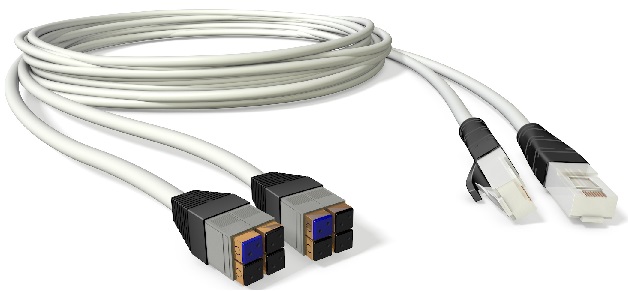 This lead will allow data centre operators to run 10GBase-T over the Cat 8.2 system, from existing servers and switches until such times as the 40GBase-T servers and RJ45 connectors are available. Then, when the time comes, all an operator will have to do to upgrade a system from 10GBase-T to 40GBase-T is to swap the patch leads for a model fitted with new 40GBase-T compatible RJ45 connectors.
In addition to helping increase the data capacity of a data centre, Draka's third party approved Cat 8.2 system is backed by 25-year performance warranty when installed as a complete UC Connect solution. And, because the system is fully backward compatible, its launch has also enabled Draka to offer a third party approved Cat 7A and Cat 7 solution, which can deliver 10Gbps of data at 90m for both data centre and LAN applications.
Source: Technical MMS UK